Basic Info
Full Name: Manchester United Football Club
Nick Name: The Red Devils
Founded: 1878 as Newton Heath LYR F.C.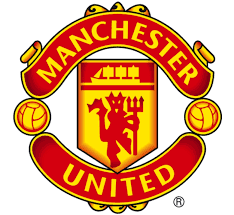 Home Ground: Old Trafford
Capacity: 75, 731
Owner: Manchester United PLC
Current Co-Chairmen: Joel and Avram Glazer
Current Manager: David Moyes
Number of EPL Titles: 13 (Most in EPL)
Introduction
Manchester United Football Club is a professional football club for men in England. The club is based at Old Trafford, Greater Manchester. The club was founded as Newton Heath LYR Football club in the year 1878. The change of the name came in the year 1910 and the club moved to Old Trafford in the same year.
The club has won 20 League titles in total that includes record 11 FA Cups, Four League Cups and twenty Community Shields. Apart from this Manchester United has also won three European Cups and one UEFA Cup Winners' Cup, UEFA Super Cup, Intercontinental Cup and FIFA Cup World Cup each.
Tragedy
On 6th February 1958 a British European Airways plane, (Flight No 609) carrying the entire Manchester United Team crashed at the Munich-Riem Airport on its third attempt to take off. Twenty of the fourty four passengers on board got killed. Eight Manchester United players and three staffers were among the casualties.
The Sir Alex Ferguson Years [1986-2013]
Alex Ferguson is the most successful manager of the Manchester United Football Club till date. He took over as a manager in the year 1986 and remained as the manager till 2013. Under his management Manchester United has won so many titles and remained unbeatable in the English Premier League (EPL). Under Sir Alex Ferguson, Manchester United played total 1500 games in all. They won 895 matches, lost 267 and drew 338 games. The team scored total 2, 769 goals and gave away 1, 364 goals. The winning percentage Sir Alex Ferguson is having is 59.67%
Most number of goal scorer for Manchester United (Till March 15, 2014)
| | | |
| --- | --- | --- |
| Name of the Player | Goals Scored | Appearances |
| Sir Bobby Charlton | 249 | 758 |
| Denis Law | 237 | 404 |
| Jack Rowley | 211 | 424 |
| Wayne Rooney | 210 | 433 |
| George Best | 179 | 470 |
| Dennis Viollet | 179 | 293 |
| Ryan Giggs | 168 | 960 |
| Joe Spence | 168 | 510 |
| Mark Hughes | 163 | 467 |
| Paul Scholes | 155 | 718 |
| Ruud Van Nistelrooy | 150 | 219 |
| Stan Pearson | 148 | 343 |
| David Herd | 145 | 265 |
| Tommy Taylor | 131 | 191 |
| Brian McClair | 127 | 471 |
| Ole Gunnar Solskjaer | 126 | 366 |
| Andy Cole | 121 | 275 |
| Cristiano Ronaldo | 118 | 292 |
| Sandy Turnbull | 101 | 247 |
| George Wall | 100 | 319 |
| Joe Cassidy | 99 | 167 |
You Should also check
[feed url="https://sportycious.com/tag/manchester-united/feed/" number="9″ ]