Personal Details of Victor Matfield
Full Name: Victor Matfield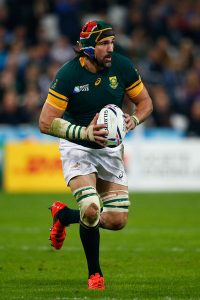 Date of Birth: 11th May 1977
Place of Birth: Polokwane, South Africa
Height: 6ft 7in (2.01m)
Weight: 110 kg (240 lb; 17 st 5 lb)
Professional Career of Victor Matfield
Position: Lock
Provincial Clubs
1999 – 2000 Griquas
2001 – 2011 Blue Bulls
2014 till now Blue Bulls
International Clubs
2007 – 08 Toulon (France)
Super Rugby
1999 – 2000 Cats
2001 – 2011 Bulls
2014 till now Bulls
For the National Team South Africa Springboks – 2001 to 2011 and then since 2014
About Victor Matfield
Victor Matfield the South African Rugby Union player grew up with equal love for the game of Rugby and Cricket. He even represented Far North Schools in Cricket. But then an injury stopped his batting and bowling and then he decided to play Rugby and played for his school side as well. After schooling Matwfield went to Pretoria for further studies and played for the University U21 side and by his high standards he was selected to play for the Blue Bulls U21 side too.
With in the next few years Victor Matfield was part of the Springboks U21 side under the captaincy of Bobby Skinstad.
After remaining successful in the U21 Rugby, Matefield decided to quit Blue Bells to play his senior and professional career for the Griquas in the year 1999. For the Super Rugby he was selected to play for the Cats. His talent and hard work for the next couple of years earned him a place in the national Springboks side and he made his debut against Italy on 30th June 2001.
Matfield continued his great Rugby and was shortlisted for the IRB World Player of the Year for 2005. Victor Matfield became an automatic choice for South Africa's IRB Rugby World Cup team for 2007. Victor Matfield won the Man of the Match award in the finals of that world cup which was won by the Springboks.
Retirement and Comeback
Victor Matfield retired from all kinds of Rugby after the 2011 IRB Rugby World Cup and decided to coach the Australian domestic rugby side New South Wales Waratahs. In 2013 he also became a television commentator for the Super Sport for the Super Rugby season that year.
In 2014 Victor Matfield decided to come back to the rugby field and signed a 2 year contract with the Bulls. The contract ends in 2015.