'Rugby Sevens' is a 'seven a side variant of Rugby Union in which two teams can field only 7 players and not the usual 15. The game is also administered by the IRB (International Rugby Board). The game was originated in Melrose in Scotland in 1983 by Ned Haig and David Sanderson. The Melrose Sevens tournament is still played at Melrose every year. The international sevens normally played during the summer. The game is most popular in the South Pacific but plays with equal enthusiasm in Asia, Africa, Europe and in the Americas. The IRB Sevens World Series is one of the most popular Rugby tournaments.
Plying area
Rugby sevens is being played on a standard Rugby field as per the International Rugby Board's rules with H-shaped goal posts.
Team formations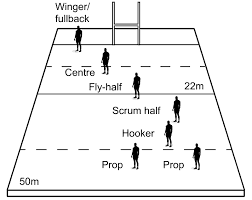 Forwards
1 – Prop, 2 – Prop, 4 – Hooker
Backwards
3- Scrum Half, 5- Fly-half, 6- Centre, 7- Winger/fullback
5 Substitutes allowed
Laws and rules of the Rugby Sevens
Seven players a side (instead of 15)
Five substitutes and five interchanges (Not 7 and 7)
Seven minute halves can be increased to 10 minute halves in a final of a competition
One minute half time, can be increased to two minutes in finals
Drawn games to be continued into extra time, which can be multiplied by 5 minute periods
No place-kick allowed during conversions and only drop kicks are allowed.
Conversions must be taken within 40 seconds of a

try

(Instead of 60 seconds)
Three player scrums (Instead of eight players scrums)

Kick-offs

are allowed in sevens for the team, which has scored

by

a kick off and not the conceding team in a normal Rugby match.
Yellow cards bring 2 minute suspension (Instead of 10 minutes)
It is up to the referee to decide on the advantage as quickly as possible
There are more judges on the ground to check the in goal touch and to check the success of kicks at the goals and hence the game loses less time.
 Major Rugby Sevens Tournaments
IRB Sevens World Series
Rugby World Cup Sevens
Summer Olympics
FIRA-AER European Sevens
Women's Rugby Sevens