Despite Caving is called a recreational adventure mixed sport it still holds a necessity to remain safe. So we got to know about caving equipments and safety as well. So read this article carefully where we have just tried to give you an idea about these two most important things for caving. This is just an idea for complete guidance on caving equipments and safety; you need to take guidance from an expert.
Know about Caving Equipments and Safety
First of all we will know about the major caving equipments and then we will discuss about the safety measures while you are taking up the caving thrill.
Caving Equipments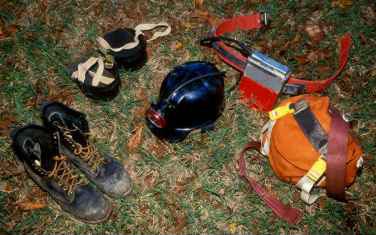 Hard hats are the first thing you should take when you are going for caving. It will protect you from bumps and falling rocks. The next thing you should carry is the Electric or halogen lam built up on that hard hat. The new LEDs are much better options though, and yes, you should always carry a backup light, too just in case the original fails somewhere.
There is no specific clothing you require when you are out for caving, but yet you need to take care about the weather, the culture and the cave environment before you decide your dress. If there is a cold out there warm base layer is always advisable against the wet suit. But you should always wear a clothing which is waterproof, because in many caves you may encounter a small or big stream within. If there is a higher possibility of streams in the cave the wetsuit is always advisable.
Along with these equipments, knee pads, gloves, elbow pads, ropes which are having bolts, Carabiners and slings are musts. You can also carry a flexible metal ladder as well. Do not forget to carry the 'first aid box' with you so that you may not find wanting when you or any of your group members suffers an emergency. And yes, do take the proper map with you always!
Safety Measures While Caving
Check 'No Danger' before starting the exploration. Check whether there is a flooding inside the cave. Make sure all the equipments are up to date and can handle any situation may encounter while caving.
Go with a team and not individually. Make sure that there are at least 4 mates with you when you go for the cave exploration, so that you can help each other while exploring things and can enjoy at the same time. Remember, 'More the merrier' is the mantra while caving.
Always keep a rescue team which will remain outside the cave during your exploration. Give them the approximate time of your return so that if you cross that time limit they can make a follow up inside the cave.
Always carry extra hard cap mounted lights and batteries with you. Three lights are common in USA and Canada caving and two lights are common in the UK.
Last but not the least, it is preferable to have at least one experienced person in your team. He or she can guide you not only during the moment of emergency, but also will help you to get the maximum enjoyment of caving.
Happy Caving mates!!