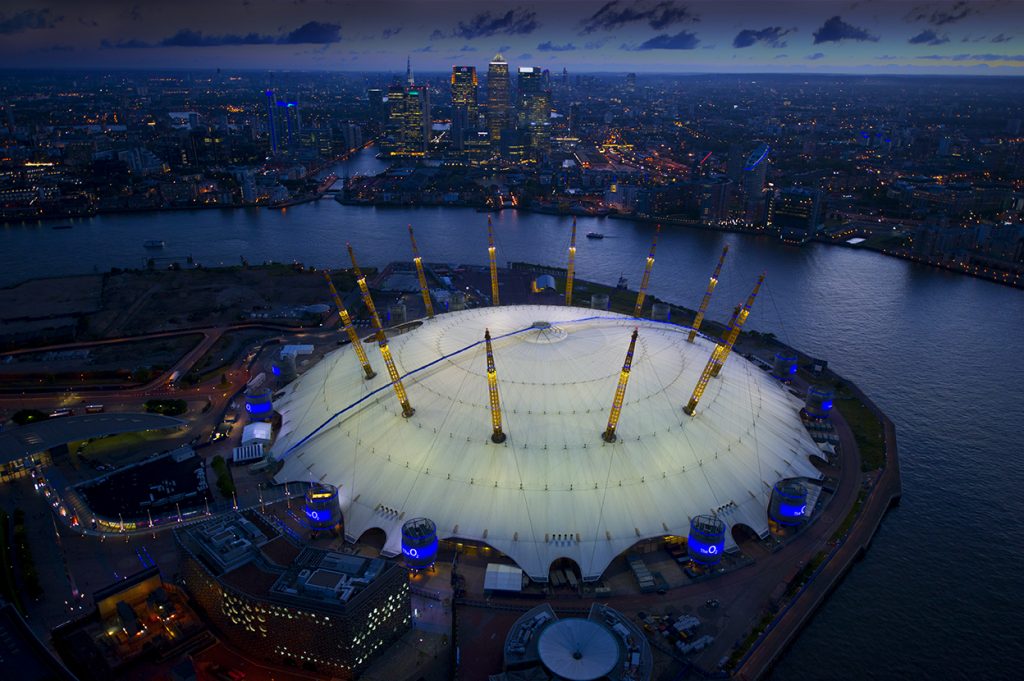 The O2 Arena is referred to the North Greenwich Arena in the context with the 2012 Summer Olympics and 2012 Summer Paralympics held in London. It is a multi purpose indoor stadium (arena) which is located at the very center of 'The O2' which is a large entertainment park in the Greenwich Peninsula of London. The name O2 has come from the main sponsors of the arena. O2 is a telecommunications company in Britain and the O2 Arena is the stadium with the second highest seating capacity with indoor facilities in the United Kingdom. It is just behind the Manchester Arena. But the O2 Arena is known to be the busiest music arena, the title previously held by the Manchester Arena. The closest underground tube station to the O2 Arena is the North Greenwich Station on the Jubilee line.
As we have already mentioned, the O2 Arena was previously known as the North Greenwich Arena till 2012. It is located on Drawdock Road, North Greenwich, London, SE10 0BB in London, United Kingdom. The O2 Arena is owned by the English Partnerships and it has been operated by the Ansco Arena Limited (AEG Live) Europe. It has a versatile surface and it can host 20, 000 fans in it. The building process of the O2 Arena was started in 2003 and it was completed in 2007. The O2 Arena was opened for the general public on 24th June 2007. Since 2009 the O2 Arena is hosting the ATP World Tour Finals every year and will keep on hosting it till 2016.
The roof of the O2 Arena was constructed within the dome structure and then it was lifted and fitted over the head. The rest of the Arena structure was then built around the roof. There are many houses around the arena which takes at least 40% of the dome structure. The best part of the O2 Arena is that its seating arrangement can be modified as per the requirement at any point of time. The ground surface is also flexible and it can be changed into a ice rink or basketball court or exhibition space, conference venue, concert venue and ofcourse the tennis court for the indoor tennis games.
In 2011 the O2 Arena sold approximately 1.9 million tickets for the concerts and shows which is equal to the Lanxess Arena in Cologne, Germany.