Know all about Aviva Stadium, which is not only the home of Irish Rugby Union team, but it also holds many other sporting and non-sporting events Let us have a look at them.
Aviva Stadium – Irish Rugby Union Team
Basic Details of Aviva Stadium
City: Dublin, Ireland
Address: 62, Lansdowne Road, Dublin 4, Dublin, Ireland
Owners: Irish Rugby Football Union and Football Association of Ireland
Operator: New Stadium Ltd
Tenants: Ireland National Rugby Union Team (IRFU), Republic of Ireland National Football Team and Leinster Rugby
Nearest Public Transit Point: Lansdowne Road Railway Station
Capacity: 51, 700 for Rugby and Football, 49, 000 for American Football and 65, 000 for concerts
Size: 106 m x 68 m
Surface: Grass
Opened: 14th May 2010
Cost: Euro 191 million (All by the Government of Ireland)
Architects: Populous and Scott Tallon Walker
Structural Engineer: Buro Happold
About Aviva Stadium
The Aviva Stadium replaced the former Lansdowne Road Stadium of Dublin in Ireland in 2010. The old stadium was completely demolished in the year 2007 as there was a need for a bigger stadium to accommodate more fans into the stadium. Before reconstructing the Lansdowne Road Stadium there was also a thought to redevelop the Stadium Ireland or/and Eircom Park as well,  but finally the choice was made to redevelop or reconstruct the Lansdowne Road Stadium. The newly built stadium can host 51, 700 spectators all seated at once.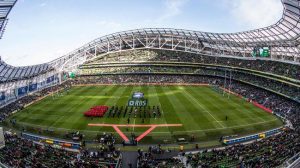 The stadium is a home for the Ireland Rugby Union Tam and also for the Republic of Ireland Football Team as well. A year before the stadium was officially opened the Aviva Group; Ireland signed a 10 year deal for the stadium title rights. Situated right next to the Lansdowne Road Railway, Aviva Stadium was opened on 14th May 2010 and became Ireland's first and only UEFA Elite Stadium in the year 2011.
The Lansdowne Road Stadium used to host only Rugby matches, but over here both the IRFU and FAI are the 50:50 partners and they have taken the stadium for 60 years lease. Once the contract is over the stadium will be back to the IRFU exclusively.
Important Matches and Events Held at the Aviva Stadium
Since its opening the Aviva Stadium has hosted a number of sporting matches and other events as well. These includes, the Heineken Cup, FAI Cup Final, Nations Cup, Europa League Final, Dublin Super Cup, The Dublin Decided and UEFA Euro 2020 will be its biggest event ever. On 1st September 2012 the stadium also hosted an American Football game between Notre Dame Fighting Irish and the Navy Midshipmen.
The stadium has also hosted concerts for Michale Bule, Neil Diamond, The Scrip, Madonna, Lady Gaga, Robbie Williams, Rihanna and Roger Waters as well.