This is the player profile of the Australian professional golfer, Jason Day.
Basic Details of Jason Day
Full Name: Jason Day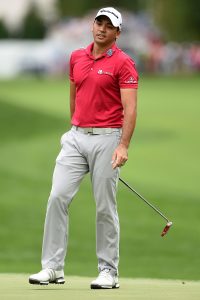 Nick Name(s): J.D, Jaydee
Date of Birth: 12th November 1987
Place of Birth: Beaudesert, Queensland, Australia
Height: 5 ft 11 ½ in (1.82 m)
Nationality: Australia
Residence: Forest Lake, Queensland, Australia | Westerville, Ohio, USA
Professional Details
Turned Pro: in 2006
Tours Play: PGA Tour and PGA Tour of Australia
Professional Wins: 16
No. of Wins by Tour
PGA Tour: 12
European Tour: 3
Web.com Tour: 1
Other: 3
Best Performance in Majors
The Masters: T2 – 2011
US Open: 2nd – 2011 and T2 – 2013
The Open Championship: T4 – 2015
PGA Championship: Won – 2015
Early and Personal Life of Jason Day
Jason Day was born to an Australian father, Alvin, and a Filipino mother Dening in the Philippines. They moved to Australia during the early years of the 1980s. When Jason turned 6 his father enrolled him in the Beaudesert Golf Club where he used to play 6 holes in a day. After the death of his father due to cancer when Jason was 12 his mother sent him to the Koorlbyn International School, where a golf course was attached and then he went to the Hills International College which also had a golf academy. From his college days, Tiger Woods was the inspiration for Jason Day as he used to read all the books about him and used to put tips given by the legendary golfer into practice. In October 2009, Jason Day married to Ellie Harvey of Lucas, Ohio. The couple was blessed with a son, Dash in 2012.
Professional Life of Jason Day
Before turning pro in the year 2006, Jason Day played many tournaments in Australia as an amateur and had a good success ratio as well. Jason Day was twice awarded the Australian Junior Order of Merit. Jason Day, as an amateur won the Australian Boy's Amateur, Callaway World Junior Championship and came second in the Porter Cup.
After winning the Green Jacket at the NEC Masters of the Amateurs in 2006 Jason Day turned pro and immediately signed by TaylorMade and Adidas. He started playing PGA Tournaments with the help of his sponsors and soon his official winning crossed US$ 160, 000. Although Jason Day failed to win the PGA Tour Card in 2007 but got a conditional status on the Nationwide Tour. His first Nationwide Tour win came in July 2007 when he won the Legend Financial Group Classic. Soon he became the 8th Golfer in the Nationwide Tour's money list and that helped him earn his PGA Card in 2008. Again with not so good year of 2009 Jason Day back to the conditional status and again with the win at the Puerto Rico Open he regained his PGA Tour Card.
In 2010 Jason Day became the youngest Australian player to win a PGA Tour event when he won the HP Byron Nelson Championship. Since then the performance of Jason Day on the PGA Tour circuit has been consistent and steady. Apart for The Open Championship, Jason Day has been impressive in the rest of the majors by finishing in top 10 at least once.