History and Description of Luzhniki Stadium
Luzh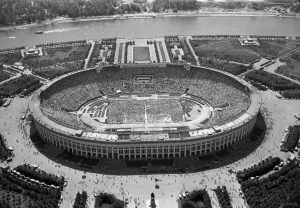 niki Stadium as known as Central Lenin Stadium was built between 1955 and 1956. It was the ambition of the Soviet leadership to upgrade country's sports facilities. After the Soviet Union tasted its first post-war successes at the 1952 Olympics.
Work on the Luzhinki Olympic Complex started in 1954. The construction of its centerpiece started in 1955 and known as Grand Sports Arena.
The construction of the stadium took 450 days to complete and officially opened on 31st July, 1956. It holds the capacity of 81,000.
The stadium is in Khamovniki District of the Central Administrative Okrug of Moscow City. The name Lizhniki derives from the flood meadows, in the curve of Moskva River where the stadium built. Translating roughly as "The Meadows".
Lizhniki Stadium served as the centerpiece stadium of the 1980 Olympics, hosting opening and the closing ceremonies, athletic events, football finals and equestrian program.
1982 Luzhniki Disaster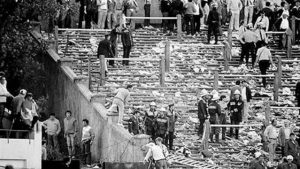 On October 20, 1982 a stadium disaster took place during the second round of UEFA Cup match between FC Spartak Moscow and HFC Haarlem where 66 people died in the stampede, which was Russia's worst sporting disaster at the time.
1990 and 2000s
Until the 1990, the stadium's capacity was over 100,000 spectators. The stadium renovated in 1996. Which includes the construction of the roof over the stands and the renovation of the seating areas which resulted in decrease of capacity.
In 1999, this stadium hosted the UEFA Cup final between Parma and Marseille (3-0). The 2008 Champions League final between Manchester United and Chelsea (1-1).
Luzhniki Stadium got selected to host the final of the 2018 World Cup, and as a result had to undergo a large redevelopment.
Redevelopment works demanded the complete reconstruction of the stands, now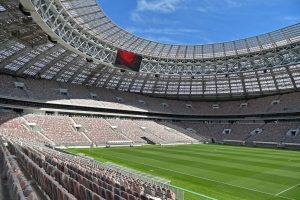 divided over two ranks, the removal of the running tracks and an expanded roof structure. The characteristic exterior of the stadium has remained unbroken. Construction completed in the summer of 2017. The first football match at the reopened stadium was a friendly between Russia and Argentina (0-1).