Get all the important details about the Murrayfield Stadium, where the Scotland rugby union team plays its home games in this article.
Murrayfield Stadium – The Home of Scottish Rugby Team
Basic Details about Murrayfield Stadium
Full Name: BT Murrayfield Stadium
Address: EH12 5PJ, Edinburgh, Scotland, United Kingdom
Nearest Public Transit Points: Haymarket Railway Station and Murrayfield Stadium Tram Stop
Opened: 1925
Renovated: 1995
Architect: Connor Milligan
Owner and Operator: Scotland Rugby Union
Capacity: 67, 144 fans
Surface: Underheated Grass
Best Attendance: 104, 000 during 1975 Five Nations match, Scotland Vs Wales
Tenants: Scottish Rugby Union | Edinburgh Rugby | Edinburgh Sevens | Heart of Midiothian
More about Murrayfield Stadium
Murrayfield Stadium is known as BT Murrayfield Stadium because of the sponsorship arrangements with the British Telecom (BT). Murrayfield Stadium is basically a rugby union stadium situated in the capital city of Scotland, Edinburgh. The total capacity of the stadium is around 67 thousand and it is equipped with large digital screens. These screens are believed to be the biggest screens in the country and 4th largest in the entire United Kingdom.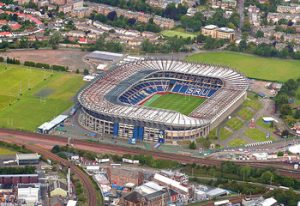 The Scotland Rugby Union or SRU is the primary operator of the stadium as it uses the stadium for almost all the home games for the Scotland rugby union team. Apart from SRU, the Edinburgh Sevens too uses the stadium for the league tournament. Apart from rugby matches the stadium has also hosted American Football matches and football matches as well.
Murrayfield has hosted Scottish Claymores games of the American Football between 1995 and 2004. The stadium has also hosted the World Bowl IV on the 23rd June, 1996. Since then, the American Football games have been shifted to the Wembley Stadium in London.
Apart from sports, Murrayfield Stadium has seen some of the best music concerts as well. In 1997 there was a concert by U2 which was part of their Popmart Tour. The Rolling Stones had a concert in June 1999. The Final Push concert was held in which James Brown, Texas and The Proclaimers and Oasis played before the sold out crowd. Bon Jovi and Madonna too have performed here at the Murray Field in past.  So all in all the Murrayfield Stadium is a multipurpose venue for sure.