This is a player profile of Caroline Wozniacki, the professional female tennis player from Denmark.
Player Profile – Caroline Wozniacki
Basic Details of Caroline Wozniacki
Full Name: Caroline Wozniacki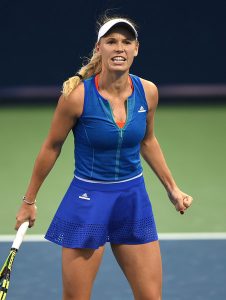 Date of Birth: 11th July, 1990
Place of Birth: Odense, Denmark
Height: 1.77 meters (5ft 10in)
Residence: Monte Carlo, Monaco
Professional Details about Caroline Wozniacki
Turned Pro: in 2005
Playing Style: Right Hand
Highest WTA Ranking: 1 (Achieved on 11th October, 2010)
Coaches: Piotr Wozniacki (2004), Ricardo Sanchez (2011), Thomas Johansson (2012), Thomas Hogstedt (2013 to 2014) and Michael Mortensen (Since 2014)
Grand Slam Singles Record of Caroline Wozniacki
Australian Open: SF – 2011
French Open: QF – 2010
Wimbledon: R4 – 2009, 2010, 2011, 2014
US Open: Final – 2009, 2014
Grand Slam Doubles Record of Caroline Wozniacki
Australian Open: R2 – 2008
French Open: R2 – 2010
Wimbledon: R2 – 2009, 2010
US Open: R3 – 2009
Other Important Tournaments Performance by Caroline Wozniacki
ATP Tour Finals: Final – 2010
Olympics – QF – 2010 London
Early and Personal Life of Caroline Wozniacki
Born to Piotr and Anna Wozniacki in Odense, Denmark, Caroline Wozniacki had like for the tennis since beginning as her father too was a tennis player. Actually, her initial training as a professional tennis player was done by his father Piotr Wozniacki only. Caroline's elder brother Patrik Wozniacki is a professional footballer and plays for IF Skjold Birkerod. Martina Hingis and Steffi Graf were inspirations for young Caroline and she started to play pro tennis in the year 2004 when she was just 14. She first won the Japan Osaka Mayor's Cup in the same year and since then she has been one of the most successful women tennis players of the world. She was engaged with the professional tennis player Rory McIlroy in 2011 and they were to marry this year (2014) but when everything was final somehow the couple broke their relationships.
Professional Career of Caroline Wozniacki
After winning her first competition in 2004 as a professional tennis player, she also won the Junior Wimbledon Championships in the year 2006 and then won six Sony Ericsson WTA Tour singles titles in the same year. In 2009, to everyone's surprise, Caroline Wozniacki managed a place in the US Open finals and lost to Kim Clijsters. In 2008 WTA also honored Caroline Wozniacki with the title of 'Sony Ericsson WTA Tour Newcomer of the Year'. In 2010 Caroline Wozniacki became the World No. 1 women's tennis player and she was the youngest to achieve a rank in Top 10. Despite being World No. 1 once, Caroline Wozniacki is yet to win a Grand Slam.
Endorsements by Caroline Wozniacki
Adidas
Compeed
Rolex

Danske

Invest
Oriflame
Turkish Airlines
Sony Ericsson
e-Boks
Proactive
Babolat