The 2014 edition of the Australian Open was like a hell for many professional players participated in it. Many players even said that they could die in such conditions. Because of the extreme heat conditions last year the 'heat policy' executed by the organizers of the Australian Open was under the scrutiny. The temperature soared over 40 degrees Celsius last time around and despite of that organizers refused to suspend few matches and many players became victims of sever heat stroke. So, learning few lessons the organizers have decided to make a big change in the heat policy this time around.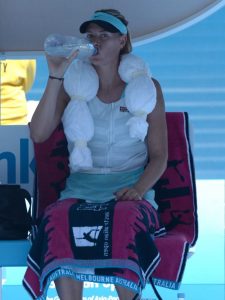 The director of the Australian Open Craig Tiley has informed that now a roof has been added to the third court as well and the overall heat policy has been updated which should ensure the conditions should remain fair for all the players.  As per the new heat policy, the match suspension due to extreme heat has been left to the match referee's discretion. Now upon a complaint from a player, the referee can discontinue the match after the ongoing set is over in each match.
The statement released by the official website of the Australian Open says that the decision on implementation of the heat policy will take into account the forecast, the current temperature exceeding 40 degree Celsius and the Wet Bulb Global Temperature – WBGT, showing the reading 32.5 +. Once the condition exceeds to these three parameters its referee's discretion, that the match can be call off. The WBGT is a device which can register the heat, humidity and wind direction and then describes the overall heat proportion or the comfort level. 32.5 reading on the WBGT is the maximum bearable level for any human.
Previously, no set temperature was set to decide whether the conditions are extremely hot or not and organizers had a say, along with the referee, in making a decision whether the match should continue or not. Because of this players like Maria Sharapova described the conditions of the 2014 Australian Open as 'in human'.
This year, apart from Juan Martin del Potro and Janko Tipsarevic all the top 100 players are going to be part of this tournament. In women's draw Czech Republic's Petra Cetkovska the the 58th ranked player will be missing the tournament out of top 100 women players.