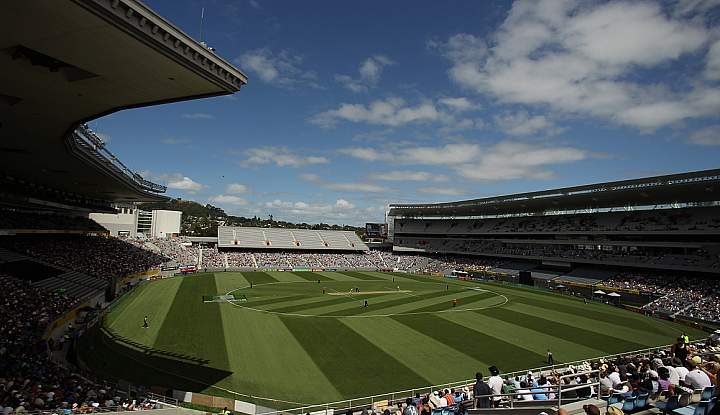 The largest stadium in New Zealand is situated in Auckland and it is named Eden Park. It is located in the central Auckland and both Rugby and Cricket are hosted here. The stadium has rich sporting and social history. The game of rugby is usually held during the winters and cricket during the summer. Apart from these two games Eden Park has also seen few of the soccer games as well. The stadium has hosted few pool games, two quarter finals, both semi finals and the finals of the 2011 IRB Rugby World Cup. The stadium has also hosted the semi finals of the 1992 ICC Cricket World Cup and will also be hosting some of the matches of the 2015 edition of the tournament as well.
The Eden Park Stadium was first opened in 1900 as a mire and was turned into two ovals in 1914. It was exclusively a cricket ground during its early years and was known as Kingsland Cricket Ground and later it was merged with the Eden Cricket Club. Soon after the Auckland Cricket Association took over the charge of the ground and since then the stadium has hosted many Test Matches, One Day Internationals and Twenty20 Internationals.
After the negotiations with the Auckland Cricket Association Rugby was allowed to played here and Auckland Rugby was given the stadium for 21 years lease during the winter season. The first ever Rugby test was hosted by this stadium was on 27th August 1921, when the All Blacks took on Springboks and the visitors won by 5-9. 40000 people attended that match.
In 1926 a trust was established to manage the Eden Park for the benefits of Auckland Cricket and Auckland Rugby and since then that trust only is managing the stadia.
As a part of the redevelopment for the 2011 IRB Rugby World cup the capacity of 50000 was further extended to 60000 with 10000 temporary seating arrangements. The Eden Park is the home ground for the Auckland ITM Cup Team and the Auckland Blues for the Super Rugby. It also hosts the national Rugby team All Blacks. As far as cricket is concern, the stadium is home for the Auckland cricket team and the New Zealand Black Caps the national cricket team of New Zealand.