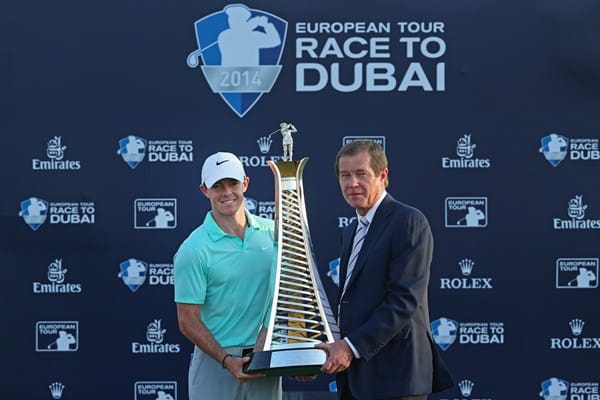 Now there should not be any doubt in anyone's mind that 2014 is the year of Rory McIlroy. It is not only because he has won the British Open (or the Open Championship) and the PGA Championship one after the another or not even because he played an instrumental role in Europe's win in this year's Ryder Cup and not also because he was voted the PGA Tour Player of the Year but also as on Sunday, he finished as the top of the money earning list of the 2014 PGA tour as well and also finishing as the European No. 1 for the third time in a row also. This news was confirmed by the Sky Sports yesterday. Because of this Rory McIlroy also wins the Race to Dubai title as well.
By virtue of winning the Race to Dubai title, Rory McIlroy is now guaranteed to receive US$ 1.25 million share of the US$5 million bonus pool which will be distributed between the top 15 players. Brooks Koepka, who won the Turkish Airlines Open on Sunday, ensured that Rory McIlroy to finish at the top of the European Tour for this season. Before this tournament, Jamie Donaldson, Marcel Seim and Sergio Garcia had a chance to overtake Rory McIlroy in the money list for 2014. But to achieve that they all needed to win both the Turkish Airlines Open and the DP World Tour Championship.
But it looked as if Rory McIlroy was confident enough to gain the title as he was not even participating in the Turkish Airlines Open. He was carrying a huge lead before that tournament got started last week. It has been told by many golfing pundits that Rory McIlroy's continuous success in the year 2014 is only because of first the poor form of Tiger Woods and later his exit from the tour till the end of the year. But for the another set of the people, it will be a big injustice to doubt the sheer talent Rory McIlroy has and he has won all the tournaments this year simply on his merits.
We will also like to see how Rory McIlroy will flair in 2015 as Tiger Woods is also expected to return to the course in January itself.