If the Eden Gardens is the 'home of Indian cricket' then Wankhede Stadium is the jewel of Indian cricket. But technically, Wankhede Stadium can be called as the home of Indian cricket as the headquarters of the BCCI is just around the corner from this stadia. Let us know more about this stadium through this article.
Wankhede Stadium Map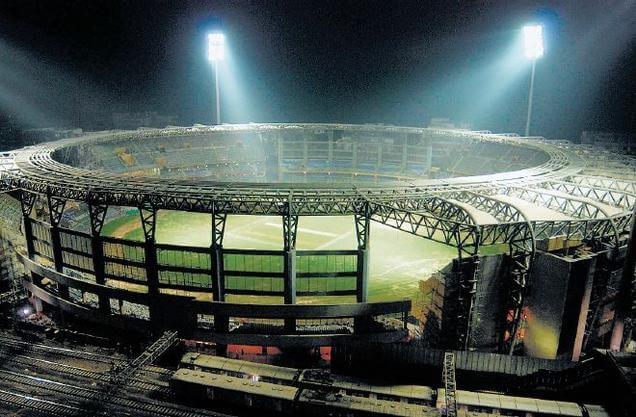 Basic Details about Wankhede Stadium
Full Name: Wankhede Stadium
Location: D Road, Churchgate, Mumbai, Maharashtra India
Nearest Commuting Point: Churchgate Railway Station
Established in 1974
Owner: The Mumbai Cricket Association
Operator: The Mumbai Cricket Association
Wankhede Stadium Capacity: 33, 482 fans
Contractors: Billimoria and Company
Upgraded: in 2010 for the ICC Cricket World Cup 2011 final
Tenants: Indian Cricket Team, Mumbai Cricket Team, and Mumbai Indians
End Names: Garware Pavilion End and Tata End
First Test Match: India Vs West Indies from 23

rd
to

29

th

January 1975
First One Day International: India Vs Sri Lanka on 17

th

January 1987
First Twenty20 International: India Vs England on 22

nd

December 2012
More about Wankhede Stadium
Prior to World War II, the test matches in Mumbai used to be played at the Bombay Gymkhana Ground. After World War II the test matches were shifted to the Brabourne Stadium, which was owned by the Cricket Club of India. After the 1973 test match between India and England, the dispute between CCI and Mumbai Cricket Association became severe over the allocations of tickets. Hence the then secretary of Mumbai Cricket Association and eminent politician S. K. Wankhede decided to have a new stadium, which will be exclusively owned by the Mumbai Cricket Association.
Wankhede Stadium Records
The land was chosen near the Churchgate Railway Station and the stadium was built in a record six months time and the first test match on the stadium was played in 1974. The stadium is named after the then President of the Mumbai Cricket Association, Seshrao Wankhede.
The Wankhede Stadium has seen many historical moments like Clive Lloyd's 242*, India's first test victory at Wankhede against New Zealand in 1976, Sunil Gavaskar's 205 against West Indies, Alvin Kallicharan's 187, Ian Botham's fantastic test century, and 16 wickets in the Jubilee test of 1980, Vinod Kambli's 224 against England in 1993, Ravi Shastri's six sixes in a Ranji Trophy game against Baroda and Sachin Tendulkar's last test match in 2013.
In 2010 the stadium was renovated according to the ICC rules and regulations so that it can host the ICC World Cup Finals in 2011. India won that final and lift the World Cup after 28 years under the captaincy of Mahendra Singh Dhoni. Here are the records of Wankhede Stadium in Various Formats.
Wankhede Stadium Test Records:
Highest total: 631-all out by India against England in the 2016/17 season.
Lowest total: 93 by Australia against India in the 2004/05 season.
The highest partnership at the Wankhede Stadium is 298 by DB Vengsarkar and RJ Shastri for India against Australia in the 1986/87 season.
Sunil Gavaskar (1122 runs) has scored the most Test runs, followed by Sachin Tendulkar (921) and Dilip Vengsarkar (631).
Anil Kumble (38 wickets), R Ashwin (30 wickets), and Kapil Dev (28)
Wankhede Stadium ODI Records:
Highest total: 438/4 by South Africa against India in the 2015 One Day International Series, then 358/6 by New Zealand, 299/4 by India, and Sri Lanka 289/7.
Lowest total: 115 all out by Bangladesh against India in the 1998 season.
Sachin Tendulkar (455 runs) has scored the most ODI runs, followed by Mohammed Azharuddin (302) and Rahul Dravid (246).
Venkatesh Prasad (15 wickets), Anil Kumble (12) and Harbhajan Singh (9).
Wankhede Stadium T20I Records:
Highest total: 230/8 by England against South Africa in the ICC World Twenty20 2016.
Lowest total: 135/7 by Sri Lanka against India in 24 Dec 2017(3rd match in 3 matches t20 series).
JE Root of England (131) scored the most scores, followed by V Kohli of India (127), CH Gayle of West Indies(104)
The stadium has these stands
Sunil Gavaskar Stand
North Stand
Vijay Merchant Stand
Sachin Tendulkar Stand
MCA Stand
Vitthal Divecha Stand
Garware Stand
Grand Stand
(Source: Wikipedia)
Related Search Terms: wankhede stadium upcoming matches, wankhede stadium tour, wankhede stadium pitch report, wankhede stadium IPL records