Yankee Stadium's bag policy is intended to provide a safer environment for guests while maintaining an efficient and enjoyable gameday experience. With over 50,000 fans in attendance for most games, it is crucial that security measures are in place to protect against potential threats or dangerous situations.
The policy limits the type and size of bags permitted within the stadium to those that can be easily screened at security checkpoints. This allows staff to quickly search bags for prohibited items without causing major slowdowns or bottlenecks. By restricting certain bags, the goal is to reduce security risks while still allowing fans to bring personal items they may need during a game.
Yankee Stadium Bag Policy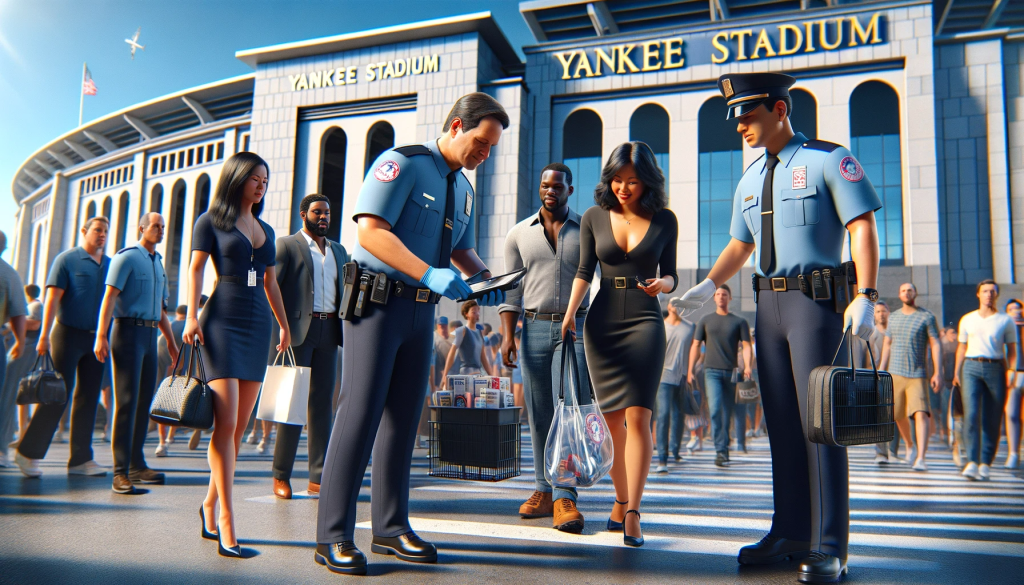 The policy was implemented based on security best practices at other sports stadiums and large event venues. It balances safety considerations with the practical needs of attendees. While some may find the restrictions inconvenient, they help ensure a positive experience for all guests in a densely packed environment. Adhering to the bag policy is a collective effort to maintain Yankee Stadium's standing as a beloved New York institution for generations to come.
Types of Bags Allowed at Yankee Stadium
Yankee Stadium allows soft-sided bags no larger than 16″x16″x8″ into the stadium. This includes items such as:
Purses
Tote bags
Soft-sided coolers
Bags must be made of soft material that can be easily searched at security checkpoints. Hard-sided bags and containers are prohibited.
Exceptions are made for medically necessary items. This includes bags used for medical equipment and supplies. Discretion is used for medical bags larger than 16″x16″x8″.
Diaper bags are also permitted for guests with infants and toddlers. These bags must be accompanied by an infant or toddler at entry.
All permitted bags are subject to a thorough inspection at security gates before entering the stadium. Guests assume all responsibility for items stored in bags.
Prohibited Items at Yankee Stadium
Fans are prohibited from bringing certain items into Yankee Stadium to ensure a safe environment for all attendees. This includes bags and other personal items that are deemed dangerous or disruptive.
The following types of bags will not be permitted into Yankee Stadium under any circumstances:
Backpacks of any size, including drawstring backpacks
Oversized tote bags larger than 16″x16″x8″
Hard-sided coolers or containers
Briefcases and luggage
Beach or grocery bags
Fanny packs and waist packs
Printed pattern plastic bags, reusable grocery totes
Additionally, other prohibited items that are not permitted in Yankee Stadium include:
Alcoholic beverages or illegal drugs
Weapons of any kind, including firearms, knives, pepper spray, fireworks, etc.
Noisemakers such as airhorns, cowbells, drums, etc.
Laser pointers
Drones or remote controlled aircraft
Selfie sticks
Banners or signs larger than 11″x17″
Fans found in possession of prohibited bags or items at stadium entry gates will be asked to return the items to their vehicle or dispose of them. Those who refuse may be denied entry. It's important for attendees to fully understand and cooperate with the Yankee Stadium bag policy to maintain a safe, comfortable environment for everyone.
Screening Process at Yankee Stadium
All guests entering Yankee Stadium will have their bags thoroughly inspected before being allowed entry. There are numerous screening checkpoints located at every gate around the stadium perimeter.
When preparing your bags for screening, have them unzipped and ready to be searched. Security personnel may ask you to remove certain items from your bag during inspection. They will use visual checks, hand searches, and x-ray scanners to look for prohibited items. The Yankee Stadium security team strives to make this process fast and efficient.
Advanced screening technology is used to scan bags and help detect dangerous or banned items. This includes state-of-the-art x-ray machines, magnetometers, and high-resolution CCTV cameras. The cameras allow security staff to closely monitor the queues and entries in real-time. Some staff may also utilize handheld metal detectors if further inspection is required.
By having your approved bags prepared for the quick and thorough screening process, you will be able to enter Yankee Stadium smoothly and securely. The goal is to ensure all guests can enjoy the games safely.
Exceptions & Special Circumstances
The Yankee Stadium bag policy aims to enhance security while minimizing inconvenience for fans. As such, exceptions are made for certain items required for medical, childcare, or disability-related needs.
Parents and guardians may bring diaper bags and other childcare supplies like bottles, pacifiers, wipes, etc. Those with medical conditions can bring medically necessary items after proper inspection and screening. Small clutch purses to carry medical supplies are also permitted.
While strollers are not encouraged, small umbrella strollers are allowed through the gates after being inspected. Strollers must be collapsible and fit below seats to store during the game. Wheelchairs and other assistive mobility devices are permitted as needed.
Outside food and drinks for dietary restrictions, special foods for infants, and certain liquids like juice boxes are allowed in reasonable quantities. Fans should be prepared to have such items inspected at the gates.
Those requiring accommodations for a disability, medical condition or other needs can contact Yankee Stadium staff in advance or speak to supervisors at the venue on game day. Every effort will be made to allow necessary items while maintaining high security standards.
Purchasing Approved Bags
At Yankee Stadium, the following types of bags are permitted, so fans looking to purchase a new bag for events will want to consider these options:
Clear plastic bags no larger than 12″ x 12″ x 6″
One-gallon clear plastic freezer bags
Small clutch purses/bags approximately the size of a hand (4.5" x 6.5")
Diaper bags or bags for medical necessities (after inspection)
Several places offer Yankee Stadium-approved clear plastic tote bags for sale online. Fans can find them through the stadium's official online team store or at major retailers like Amazon and Walmart. Bags with the official Yankee Stadium logo or team branding are available. Prices typically range from $10-$20 depending on size.
Small clutch purses in the approved size can also be found from various designers and retailers. Clutch bags need to be approximately the size of an adult hand to be permitted.
For those who want to represent their Yankees pride, there are game day-approved bags and purses with team logos and designs sold through the stadium's team store and other major merchandise retailers. These are stylish options for fans who want to show their spirit while abiding by the venue's bag policy.
Bag Check Services
For fans who arrive with a prohibited bag or items, Yankee Stadium provides convenient bag check options right outside the stadium. Bag checks are available at designated locations on the east and west sides of the stadium.
Fans can check their bags and prohibited items before passing through stadium security. Bag check attendants will tag and securely store any bags or items until the owner returns to pick them up after the game.
Bag check stations open 2 hours before first pitch and remain open for 1 hour after the final out. Rates are affordable at just $10 per bag or item. Groups of any size are welcome to check bags together under one claim ticket.
Lockers are available on a first-come, first-served basis to provide secure storage. However, bags and items are stored at the owner's risk. The Yankees encourage fans not to leave valuables, electronics, or irreplaceable personal items.
Yankee Stadium bag checks present a seamless solution for storing large bags, alcohol, cameras, selfie sticks, or any other prohibited items before entering the stadium. Fans can then pass through security and enjoy the game unencumbered.
Enforcement at Yankee Stadium
Security and guest services staff actively enforce the bag policy at Yankee Stadium. All guests and their bags are subject to screening and search prior to entering the stadium. Attempts to bypass the bag restrictions or smuggle in prohibited items may result in denied entry, ejection from the stadium, arrest, and prosecution.
Guests observed violating the policy once already inside the stadium are also subject to ejection and arrest. Security personnel and surveillance cameras monitor the facility to check for compliance. Prohibited bag sizes are strictly enforced, even if a bag only slightly exceeds size limits. There is no flexibility or exceptions made for oversized bags.
All permitted bags are meticulously inspected. Security staff search through bag contents looking for banned items like outside food and beverages, alcohol, weapons, bottles, cans, selfie sticks, and other contraband. K9 units may assist with bag searches as needed.
Guests found in possession of prohibited items have them confiscated. These items are not returned or held for pickup after events. Violators may face ejection without refund, arrest, and criminal charges depending on the severity of the violation.
The Yankees organization takes policy enforcement very seriously to maintain a safe environment. Guests are advised to fully comply to avoid punishments that may impact their ability to attend future games. Carefully following the bag restrictions makes for an efficient and hassle-free stadium entry experience.
Feedback & Changes
The Yankee Stadium bag policy is reviewed on an ongoing basis, taking into account fan feedback and changing security standards. Fans who wish to provide input on the bag policy can contact Yankee Stadium guest services by phone, email, or social media.
The Stadium implemented the clear bag policy in 2015, replacing previous restrictions that prohibited most bags. This change came after extensive feedback from fans who found the earlier policy too limiting. Since 2015, the Stadium has continued to adjust prohibited items based on changing threats and new screening technologies. Most recently, the prohibited items list was updated in 2022 to allow factory-sealed plastic water bottles up to 1 liter, after fans voiced concerns over access to water in the Stadium.
Going forward, the Stadium remains open to further changes that enhance fan experience while maintaining critical security standards. Fans should check the official Yankee Stadium website for the most up-to-date bag policy before each game.
Similar Policies at Other Venues
Like most major professional sports stadiums, Yankee Stadium has a clear and enforced bag policy for all guests entering the venue. This is primarily for security reasons and to help expedite entry.
Other major league baseball stadiums like AT&T Stadium, Fenway Park, Wrigley Field, and Dodger Stadium have similar policies allowing only certain types and sizes of bags. Most prohibit backpacks, suitcases, and bags larger than 16″x16″x8″. Clear plastic, vinyl, or PVC bags are typically acceptable.
The NFL also has a league-wide policy enforced at all stadiums banning most bags for fans. Only clear plastic, vinyl or PVC bags no larger than 12″x6″x12″ are permitted, along with small clutches and wallets 4.5″x6.5″.
Other venues like Madison Square Garden and large concert arenas also restrict bag sizes and opaque bags. This shows it's an industry-wide best practice, not just isolated to Yankee Stadium.
When you find yourself in the vibrant heart of New York City, whether it's to catch a New York Yankees game at Yankee Stadium or to explore the city's hot yoga studios, knowing the bag policies in place is essential for a seamless experience. Just as NBA facts are intriguing and unique for basketball enthusiasts, bag regulations can also offer a fascinating insight into the safety measures taken at various sporting and entertainment venues.
At Yankee Stadium and Gillette Stadium, where the excitement of live sports events comes alive, bag policies are designed with your safety and enjoyment in mind. The rules surrounding bags may vary slightly from one venue to another, much like the different strategies employed by NBA teams on the court. However, a common thread among these policies is the emphasis on transparency and security. Clear plastic bags are often the go-to choice for patrons, allowing for easy inspection and minimizing wait times at the entrance.
In the bustling city of New York, where hot yoga studios offer a serene escape from the urban hustle, it's important to remember that bag policies can vary, just like the diversity of yoga practices. Whether you're carrying your yoga essentials to a studio or heading to a sporting event at iconic venues, it's always a good practice to check the specific bag policy online in advance. This simple step will help you stay well-prepared and informed about the regulations in place, allowing you to make the most of your experience and avoid any last-minute surprises.
So, whether you're diving into the world of NBA facts, planning to attend a New York Yankees game, or seeking serenity at a local hot yoga studio in New York City, being aware of the bag policies is a key part of ensuring your visit is as enjoyable and stress-free as possible.