Springboks – the South African Rugby team is one of the forces in the world of Rugby. Today we are going to know more about the team through this article. We will know about Springboks' important details along with their history and a few other things as well.
Springboks – The South African Rugby Team
Brief Information about Springbok
Union: South African Rugby Union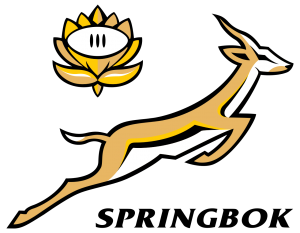 Affiliation: International Rugby Board – IRB
Nickname(s): Springboks, Boks, Springbokke, Bokke and Amabokoboko
Emblem(s): The Springbok and the Protea
Current Captains: Jean de Villiers and Victor Matfield
Most Appearances: Victor Matfield
Current Coach: Heyneke Meyer
Top Scorer: Percy Montgomery
Most Tries: Bryan Habana
First International Match: Vs British Isles (as Cape Colony), Result – lost by 0-4
Largest Win till Date: Vs Uruguay by 134-3 on 11th June 2005
Worst Defeat: Vs England by 3 -53 on 23rd November, 2002
IRB Rugby World Cup Performance: Debut in 1995; Best Results: Winners in 1995 and in 2007
About Springboks and their Brief History
The South African Rugby Union team is also known as Springboks has been part of the world rugby since 30th July 1891. You will always find the team playing in predominantly green color jersey with gold stripes. On the date of their debut in the world Rugby, they played their test against the British Isles and lost by 0-4. As it happened with many sports in which South Africa was involved because of the anti-apartheid sporting boycotts there was not much international rugby matches played by the team till 1994 when Nelson Mandela's ANC took over the country's regime and made transitional changes.
Because of this for the first two world cups in 1987 and in 1991 the Springboks could not participate and made their debut in the 1995 IRB Rugby World Cup. Not only they participated in the tournament, but also hosted the tournament and came out champions by defeating the All Blacks in the finals by 15-12. Again in 2007 the Springboks retained the world title by beating England in the final by 15-6 in France. Springboks have been the No. 1 ranked Rugby Union team many times and they were also named as 2008 World Team of the Year at the Laureus World Sports Awards.
Home Grounds of the Springboks
Ellis Park Stadium, Johannesburg
Loftus Versfeld Stadium, Pretoria
The Newlands Stadium, Cape Town
Kings Park Stadium, Durban
Free State Stadium, Bloemfontein
Nelson Mandela Bay Stadium, Port Elizabeth
Buffalo City Stadium, East London
Royal Bafokeng Sports Palace, Rustenburg
Mbombela Stadium, Nelspruit
Puma Stadium, Witbank