The original team name for Brumbies was ACT Brumbies as it is representing the Australian Capital Territory Canberra but because of the sponsorship from the University of Canberra it is now called the Brumbies. Brumbies are actually the wild horses one found in the areas of Canberra, the Australian Territory Region (ACT) hinterland. Apart from the ACT region the Brumbies also has a representation from the southern part of the New South Wales region.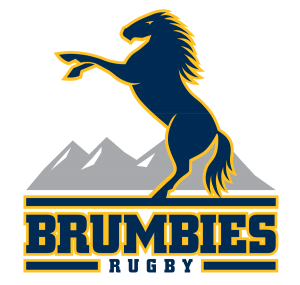 The team was first founded in the year 1996. The Brumbies play their home matches at the GIO Stadium located in Canberra. The current Director of Rugby for the Brumbies is Laurie Fisher. The coaching part has been taken care by Stephen Larkham. Stephen Moor is the captain of the side and David Pocock and Christian Lealiifano are the two current vice captains. The Brumbies were the third franchise to be formed during the Super 12 (now Super Rugby) competition. When the team was founded it was predicted that the team will not go very far in the competition as the players were rejected by the other franchises or no other franchise would like to pick them. But the results till now are totally opposite. They have reached five finals in all the Super Rugby editions and have won two out of them. This is the best result by an Australian franchise till date.
The kit for the Brumbies is in navy blue, white and gold. Their primary jersey is navy blue with gold trim and they wear navy blue shorts and socks. The other jersey is gold and yellow which the Brumbies wear during their away games. The name Brumbies has come after a wild horse which in inhabited in the Canberra hinterland. The mascot for the Brumbies is the Burmby Jack. The original name for the team during the first season was ACT Brumbies but later the Far South Coast Rugby Union and Southern Inland Rugby Union joined with ACT Rugby and thus from the second season of Super 12 the team was renamed as ACT And Southern NSW Rugby Union. But the fans simply call them Brumbies!
The Brumbies have been winners of the Super Rugby tournament twice, first in 2001 and then in 2004. The Brumbies have been the runners up team in 1997, 2000, 2002 and in 2013 as well.