Basic Information About Real Madrid:
Full Name: Real Madrid Club de Futbol
Nick Names: Los Blancos (The Whites), Los Merengues (The Meringues), Los Vikingos (The Vikings)
Founded on: 6th March, 1902 as Madrid Football Club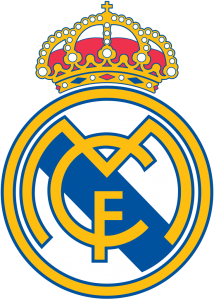 Home Ground: Camp Nou, Barcelona (Spain)
Capacity: 85, 454
Current President: Florentino Perez
Current Manager: Zinedine Zidane
League plays in: La Liga
Number of La Liga wins: 33
Official Website: realmadrid.com/en
Introduction
Real Madrid Club de Futbol (or Real Madrid) is a professional football club which is based in Madrid, Spain. The club was founded in 1902 which was originally named as Madrid Football club. Club players traditionally wear White colored kit and that is why they are fondly called by their fans as 'Los Blancos' or The Whites in English. The club had included the royal crown of the then King of Spain King Alfonso XIII in the year 1920 on their emblem.
Although the Real Madrid logo was changed seven times in its history of 112 years of existence, first in 1902, then in 1908, 1920, 1931, 1941, 1997 and last in 2001 which is its current logo.
Unlike other clubs of Europe, the Real Madrid is not owned by any business man or it doesn't hold any shares in any stock market but it is owned by the fans of Real Madrid, which are called 'Socios' in Spanish. The socios choose a president to run the club.
The club currently enjoys the tag of being the richest football club of the world with having an annual turnover of 577 million Euros. The value of the Real Madrid team is worth 3.24 billion Euros.
The club has produced some of the fantastic international players who have served not only the club, but also the national team, Spain with equal ability.
Major Rivals of Real Madrid in La Liga
Atheletic Bilbao
Barcelona
El Clasico
El Derbi madrilène
Athletico Madrid
Major Titles won
La Liga – 33
Copas del Rey – 19
Supercopas de Espana – 10
Copa Eva Duarte – 1
Copa de la Liga – 1
European Cup/UEFA Champions League – 12
UEFA Cup – 2
UEFA Super Cup – 4
International Cup – 3
FIFA Club World Cup – 3
Most number

of goals scored for Real Madrid (Top 10 based on goal ratio)
| | | | | | | | |
| --- | --- | --- | --- | --- | --- | --- | --- |
| Pos. | Name | Years | League | Cup | Europe | Other | Total |
| 1 | Cristiano Ronaldo | 2009–present | 289 (276) | 22 (30) | 99 (94) | 12 (15) | 422 (415) |
| 2 | Raúl González | 1994–2010 | 228 (550) | 18 (37) | 66 (132) | 11 (22) | 323 |
| 3 | Alfredo Di Stéfano | 1953–1964 | 216 (282) | 40 (50) | 49 (58) | 3 (6) | 308 (396) |
| 4 | Carlos Santillana | 1971–1988 | 186 (461) | 49 (84) | 47 (87) | 8 (13) | 290 (645) |
| 5 | Ferenc Puskás | 1958–1966 | 156 (180) | 49 (41) | 35 (39) | 2 (2) | 242 (262) |
| 6 | Hugo Sánchez | 1985–1992 | 164 (207) | 19 (32) | 23 (39) | 2 (4) | 208 (282) |
| 7 | Karim Benzema | 2009–present | 123 (253) | 15 (33) | 41 (78) | 5 (15) | 185 (384) |
| 8 | Francisco Gento | 1952–1970 | 126 (428) | 22 (74) | 30 (95) | 4 (4) | 182 (601) |
| 9 | Pirri | 1964–1979 | 123 (417) | 25 (67) | 23 (75) | 1 (2) | 172 (561) |
| 10 | Emilio Butragueño | 1983–1995 | 123 (341) | 16 (39) | 27 (75) | 5 (8) | 171 (463) |