If you love racing and are passionate about drifting, you might have thought of making a career out of this sport, haven't you? Well, even though drifting as a sport isn't as popular as many sports in the United States, there is still hope.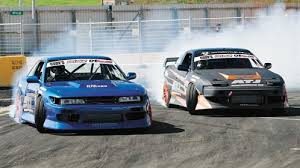 When Formula Drift, Inc. came up with Formula D Racing as a professional sport, the popularity of drifting as  sport developed and escalated to greater heights!
Since then, drifting events have been have been held on national levels professionally and umpteen number of individuals have followed it diligently and become a fan!
If you are a fan too, you might have wondered about ways and methods of participating in this sport. Do you have the necessary skills? Or, do you think you're passionate enough to develop such skills?
Many of your likes would never find out how; but you may know more about it. Read on…
For people who have interest in drifting and who want to take up this sport as a career option or just indulge in the sport for fun – you have many options here!
One, you might go right on the tracks and show our skills (if you have it), though it isn't an easy sport to get into. Without the proper know-how about the sport or the right equipments (for instance, the car used for drifting), this sport can be quite dangerous. Just like flying a plane is not learnt by getting on the plane and flying it, so is drifting not learnt just by going for that ride in your car. To be safe and sound and yet excel at your passion, you would require proper training or undergo a crash course which teaches drifting.
When you look for a course on drifting, you will find that there are different kinds programs offering different modules. One might wonder what is one supposed to learn in drifting. Well, as silly as it might seem, learning drifting is as important as learning to fly a plane. When you go out looking for course modules, you will find that some instructors keeps it more of a classroom teachings while others depends more on hand on training on the tracks itself!
We suggest you to look for one where the combination of both classroom teaching and practical training is offered!
Although different courses would offer different learning modules, the basics will remain the same. Learning the history of the sport as well as the latest updates on the sport would be taught everywhere. The courses would of-course teach the techniques and best practises used while drifting. Popular techniques would be examined and would be explained. However, the hands-on training will of course be done in a controlled and supervised environment.
While you browse through the course details, you will find that the cost differs from instructors to instructors based on programs and courses. Well, it depends on both the instructor or the program promotor. In many cases, the length of the program will also reflect on the cost of the course. From day courses to week-long courses – you may find it all. However, the information shared on Formula D Racing and the exposure to the drifting training would determine the cost in most cases. Shorter courses will of course cost you less. Longer courses would provide a long and in-depth information.
If you go for a shorter course, make sure you get what you pay for!
In the United States, drifting courses or training programs are quite prevalent now. Although the courses or training programs are not held in every city yet, you may have to travel to attend a course to another city if you live in a city where it is not available. The best way to know if any such training programs or courses are available in your city, you just need to do an internet search and find out the nearest workshop/course.
If you enroll for a course in another city and have to travel, always remember that it is always worth it. Be passionate!
If you look up the web and come across an advertisement for a program or a workshop, we suggest you to join right away as it won't be long before it gets filled up.
There are passionate drifters looking to learn more, all around!