This is the player profile of the woman professional tennis player Petra Kvitova of the Czech Republic.
Basic Details about Petra Kvitova
Name: Petra Kvitova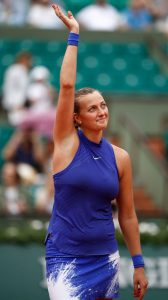 Date of Birth: 8th March, 1990
Place of Birth: Bilovec (Former Czechoslovakia)
Residence: Monte Carlo, Monaco
Height: 6ft (1.82 m)
Professional Details about Petra Kvitova
Turned Pro: in 2006
Playing Style: Left Handed
Coaches: David Kotyza
Highest WTA Ranking: 2 (Achieved on 31st October, 2011)
Grand Slam Singles Performances by Petra Kvitova
Australian Open: SF – 2012
French Open: SF – 2012
Wimbledon: Winner – 2011 and 2014
US Open: R4 – 2009 and 2012
Grand Slam Doubles Performances by Petra Kvitova
Australian Open: R2 – 2011
French Open: R2 – 2010
Wimbledon: R1 -2010
US Open: R1 – 2010
Other Tournaments
WTA Tour: Winner – 2011
Olympics: QF – 2012
Fed Cup: Winner – 2011 and 2012
Hopman Cup: Winner 2012
Early and Personal Life of Petra Kvitova
Petra Kvitova was born to Jiri Kvita and Pavla Kvitova in Bilovec town of the Moravian-Silesian Region of the former Czechoslovakia. His father introduced her to tennis at an age of 13. As a kid Petra Kvitova always had admiration for the former Czech-American tennis star Martina Navratilova. The entire training of Petra Kvitova was done in her home town of Fulnek and at the age of 16 her parents found a professional instructor or trainer for her.
Professional Career of Petra Kvitova
At the age of 21, Petra Kvitova stunned favorite Maria Sharapova in the final of the 2011 Wimbledon. Again in the same year, Petra Kvitova also won the WTA Tour Championship and that helped her to increase her ranking immensely. A year later Petra Kvitova lost to Maria Sharapova at the Wimbledon final and that was part of her dismal year of 2012. In 2014 Petra Kvitova won her second Wimbledon title by beating the Canadian tennis star Eugenie Bouchard.
Apart from winning the Wimbledon tournament twice, Petra Kvitova has not won any other Grand Slam Tournament but she has won many awards for her over all performances too. Here are some of the important awards, which Petra Kvitova has won till date.
WTA Newcomer of the Year
WTA Player of the Year
WTA Most Improved Player
Karen Krantzcke Sportsmanship Award
Fan Favorite Breakthrough Player
ITF World Champion
Czech Athlete of the year.