Basic Information about Andy Murray
Full Name: Andrew Barron Murray
Date of Birth: 15th May 1987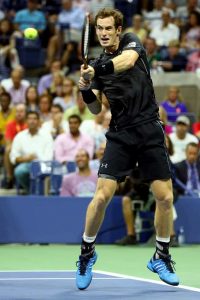 Place of Birth: Glasgow, Scotland, United Kingdom
Nationality: Great Britain
Height: 6 ft 3 in
Style: Right handed
Turned Pro: 2005
Highest ATP Ranking: 2 (First on 17th August 2009)
Andy Murray's Best Performances at Grand Slam Singles
Australian Open: Finalist – 2010, 2011, 2013
French Open: Semi Finalist – 2011, 2014
Wimbledon: Winner – 2013
US Open: Winner – 2012
Andy Murrey's Best Performances at Major Tennis Singles' Tournaments
ATP Tours: Semi Finalists – 2008, 2010, 2012
Olympics: Gold Medal – 2012
Andy Murray's Best Performances at Grand Slam Doubles
Australian Open: 1st Round – 2006
French Open: 2nd Round – 2006
Wimbledon: 1st Round – 2005
US Open: 2nd Round – 2008
Andy Murrey's Best Performances at Major Tennis Doubles' Tournaments
Olympics: 2nd Round – 2008
Andy Murray's Best Performances at Grand Slam Mixed Doubles
Wimbledon: 2nd Round – 2006
Andy Murrey's Best Performances at Major Tennis Mixed Doubles' Tournaments
Olympics: Silver Medal – 2012
Andy Murrey's Best Performances
for

Great Britain

Davis Cup: Quarter Final – 2014

Hopman Cup: Final – 2010
Andy Murray's Personal and Early Life
Andy Murray was born to Judith (Erskine) and William Murray in Great Britain's Scotland's Glasgow city. Jidith's mother and Andy's maternal grandmother, Roy Erskine was a professional footballer in the late 1950s,  which means that Andy already had the roots to become a sportsman. Murray attended the Dunblane Primary and later the Dunblane High School as he grew up. He chose football as his first sports and was willing to take training at the Rangers Football Club at the age of 15 but his admission was declined, hence as a second choice he opted Tennis. To have a perfect training in Tennis Murray went to Barcelona in Spain and studied at the Schiller International School where he was trained on the clay courts of the Sanchez Casal Academy. He was lucky enough to be trained by Emilio Sanchez the then World No. 1 doubles player. At the age of 17 Andy Murray won the US Open Junior title and named for the Young Sports Personality of the Year in 2004 by BBC. Next year Murray became the youngest player ever to play in Davis Cup. In love game, Andy Murray has been romantically involved with Kim Sears, whom we often find present at major games Murray plays.
Professional Career of Andy Murray
After turning Pro in 2005 Andy Murray took services of Brad Gilbert and beat Roger Federer in the 2nd round of the Cincinnati Masters and climbed the steps of professional career by beating Andy Roddick by constantly winning the ATP tournaments. He won 20 ATP titles by 2012. By 2007 Murray entered the top 10 tennis players in the ATP Rankings. Andy Murray kept on improving his ATP Rankings and reach at No. 2 in the year 2012. The major turn around came in Andy Murray's career when he won the US Open in the year 2012 and in 2013 he won the Wimbledon for the first time ever by doing this Murray also created history as he became the first ever British to win a Wimbledon title after 77 years.
Endorsements by Andy Murray
Adidas
Shiatzy Chen
Royal Bank of Scotland
Highland Spring
Fred Perry
RADO
The Andy Murray Quote
We Scots have a fierce pride in the things we do that others can never appreciate. I am the British No. 1, but I would prefer to be the British No. 1 from Scotland every time.