New Zealand's Rugby Union captain and one of the most adored sportsmen in the country is reportedly having a new girlfriend! Yes, Richie McCaw is said to be dating the 22-year-old Black Sticks (New Zealand's women's field hockey team) midfielder Gemma Flynn. This news was first published by the Herald.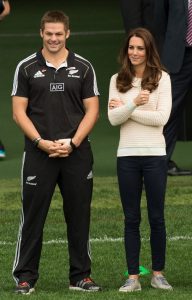 Expectedly both the agent of McCaw, Dean Hegan and Flynn's mother have refused to confirm or even to comment on this issue as of now. Although Hegan did say that if at all there is anything which is related to such relationship, only McCaw could confirm it and not him. Richie McCaw was in Auckland to fulfil his advertisement commitments when the journalists asked Hegan for the clearer picture. On the other hand, Flynn's mother before refusing to comment just had a laugh, as per the Herald.
The news can be more trustworthy or still has a substance as just a few months back, McCaw said in an interview to RadioLive that he is still on the lookout for a girlfriend as there is none at the moment. McCaw was related to Hayley Holt, the dancer from the 'Dancing with the Stars' and Nicola Grigg previously.
Also read: Haka Dance by New Zealand's Rugby Team
Gemma Flynn is a 22-year-old student at Massey University and is studying sports science and pursuing a bachelor's degree in it. Flynn is originally from Tauranga and now living in Auckland. She had started her career in the year 2008 and she was the part of the London and Beijing Olympic squads for the Black Sticks. She was also part of the test series, which was played against Argentina in last February.
Age difference in love does not matter but just to take a note, Riche McCaw is 33 whereas Gemma Flynn is just 22 as we have said earlier. They both met during the All Black's recent tour to the north and McCaw was reportedly ready to take the opportunity he has for the six months in which the All Blacks are not playing any game, to think seriously about the relationship. Check some more Rugby Facts.
There is no doubt that Richie McCaw is the most eligible bachelor in New Zealand and he would have to work hard to get his love mate for sure