Basic Information about MS Dhoni
Full Name: Mahendra Singh Dhoni
Nickname(s): Mahi, MS, MSD
Date of Birth: 7th July 1981
Place of Birth: Ranchi, Jharkhand (then Bihar), India
Height: 5 ft 9 in (1.75 m)
Professional Details about Mahendra Singh Dhoni
Batting Style: Right Hand Batsman
Bowling Style: Right Arm Medium
Role: Wicket Keeper Batsman and Captain of India
List A Debut: in 1999/00
Twenty20 Debut: Vs South Africa at Johannesburg on 1st December 2006
T20I Debut: Vs South Africa at Johannesburg on 1st December 2006
One Day International Debut: Vs Bangladesh at Chittagong on 23rd December 2004
Test Match Debut: Vs Sri Lanka at Chennai on 2nd December 2005
Major Teams Played For: India, Asia XI, Bihar, Jharkhand, and Chennai Super Kings
MS Dhoni Awards:
Castrol Indian Cricketer of the Year, 2011
MTV Youth Icon of the Year: 2006
ICC ODI Player of the Year: 2008, 2009
The ICC World ODI XI: 2006, 2008, 2009, 2010, 2011, 2012, 2013, 2014 (captain in 2009, 2011-2014)
ICC World Test XI: 2009, 2010, 2013
LG People's Choice Award: 2013
Padma Shri: 2009
Rajiv Gandhi Khel Ratna: 2007–08
Honorary doctorate degree by De Montfort University: August 2011
Padma Bhushan: 2018
Mahendra Singh Dhoni: Early and Professional Life
Born in Jharkhand, then Bihar, Mahendra Singh Dhoni belongs to Lvali village in Almora district of Uttarakhand state of India. Dhoni focused on his cricketing carrier after 10th. Before getting selected in the Indian Cricket team Dhoni was working as a TTE (Traveling Ticket Examiner). He was working as a TTC for 2 years in Kharagpur Railway Station from 2001-2003.
MS Dhoni Career
Mahendra Singh Dhoni is known as a find by former Indian cricket great and the then captain of India Sourav Ganguly. Under Sourav Ganguly's captaincy, Dhoni made his debut in One Day Internationals first. It was Ganguly who promoted him at No. 3 in an ODI against Pakistan at Vishakhapatnam and Dhoni responded his captain with a match-winning 148 runs from just 123 balls.
It is not an easy job to captain any team in sports, especially if that team is the Indian Cricket Team. But Mahendra Singh Dhoni has captained the Indian Cricket Team in all three formats of the game brilliantly. Under him the Indian Cricket Team first won the ICC World Twenty20 in 2007, then in next few years, India became the World's No. 1 Test Match team and then in 2011 MS Dhoni gave the ultimate prize to the Indian cricket fans, the ICC Cricket World Cup after the wait of 28 years!
MS Dhoni Record:
Dhoni holds the record of scoring the fastest ODI century by a wicket-keeper which was previously held by Adam Gilchrist. After winning the ICC World Twenty20 in South Africa, Indian Premier League was introduced in India and Dhoni was the highest priced player during the first auctions of the IPL. Since then he is captaining the IPL Franchise the Chennai Super Kings.
Mahendra Singh Dhoni is married to his childhood friend Sakshi Rawat. Dhoni is constantly listed in World's richest sports-persons' list of Forbes for the last couple of years. Mahendra Singh Dhoni is one of the most admired cricketers around the world today especially for his skill to finish the match even from dire situations.  A biopic on Mahendra Singh Dhoni is also scheduled to release in 2015.
Test Cricket
India topped the Test cricket rankings for the first time, in 2009 under his captaincy.
Eclipsing Sourav Ganguly's record of 21, he is the most successful Indian Test captain with 27 Test wins.
First Indian wicket-keeper to complete 4,000 Test runs.
224 against Australia in Chennai is the third highest score by an Indian captain.
En route to 224, he registered the highest Test score by an Indian wicket-keeper when he was on 193, beating Budhi Kunderan's 192.
It was also the highest score by a wicket-keeper–captain beating Englishman Alec Stewart's 164.
His maiden century against Pakistan in Faisalabad (148) is the fastest century scored by an Indian wicket-keeper and fourth overall.
After hitting a six in the third Test against England in Southampton, he completed 50 sixes as a captain, an Indian record.
With 294 dismissals in his career, ranks first in the all-time dismissals list by Indian wicket-keepers.
Has the most stumpings(38) by any wicket-keeper in a Test career.
Shares the record for most dismissals in an innings (6, with Syed Kirmani) and in a match (9) by an Indian wicket-keeper.
ODI Cricket
Third captain (and the first non-Australian) overall to win 100 games.
Fourth Indian to reach 10,000 ODI runs after Sachin Tendulkar, Sourav Ganguly & Rahul Dravid, and also the second wicket-keeper to reach the milestone.
First player to pass 10,000 runs in ODI cricket with having a career average of over 50.
Fifth highest batting average (51.09), among cricketers with more than 5,000 runs and the second highest batting average among players with an aggregate of over 10,000 runs.
Most career runs in ODI history when batting at number 6 position (4031).
The only player to score more than one hundred in ODI cricket when batting at number 7 position or lower (Dhoni has 2 centuries at number 7).
Most not outs (82) in ODIs.
First Indian and fifth overall to hit 200 sixes in ODIs.
183 Runs against Sri Lanka in 2005 is the highest score by a wicket-keeper.
113 against Pakistan in Chennai in 2012 is the highest by a captain batting at number 7.
Dhoni and Bhuvneshwar Kumar were involved in a partnership of 100 not out against Sri Lanka, which is India's highest eighth wicket partnership in ODIs.
Holds the records of the most dismissals in an innings (6) and career (432) by an Indian wicket-keeper.
Has the most stumpings (120) by any wicket-keeper in an ODI career.
First Indian wicket-keeper to take 300 ODI catches and fourth wicket-keeper in the world to achieve the feat.
T20I Cricket
Most T20Is wins as captain (41)
Most T20Is matches as captain (72)
Has most T20I matches in history as both captain and wicket-keeper (72)
Most consecutive innings without a duck (84)
Holds the record for playing the most innings (76) and scored the most runs(1,153) before scoring a fifty
Most dismissals as wicket-keeper (87)
Holds the record of most catches as wicket-keeper (54)
Most stumpings as wicket-keeper (33)
Most catches as a wicketkeeper (5)
International records (combined ODI, Test, and T20I)
Most international matches as captain (332)
First, and so far only, wicket-keeper to effect 150 stumping dismissals across the three forms of the game. His current total of stumpings in internationals stands at 161.


IPL Career 

Dhoni has played a total of 200 IPL matches.

In his illustrious career of IPL, he has scored 4956 runs.

He has knocked a total of 308 4's and 215 6's out of the stadium. 

He has a record of 39 stumpings.

He has been the face of Chennai Super Kings for the first eight editions and also led them to win two titles (2010 & 2011) and four runner-up finishes.

MS Dhoni's Retirement

Mahendra Singh Dhoni announced his retirement from International Cricket on 15th August 2020. He is the only skipper to win all the three crucial ICC trophies  – The World Cup, The Champions Trophy, and The World Twenty20. 

It was back in January 2017, when he stepped back as the captain of ODI's. He bid goodbye to Test Cricket on December 30, 2014. Dhoni has guided India in a total of 200 ODIs and 72 T20Is. It was back in 2007 when Dhoni was declared as the captain of the Indian Team.  

He is the man who led India to the top of the world Test rankings. Surprisingly, Dhoni is the only player who has played more than 50 matches in more than three formats.

It was back in 2004 when Dhoni made his International debut and made it to the top. In 2007, Dhoni led India to make history by winning the inaugural World Twenty20 title in South Africa.

Post that, He was assigned as the ODI captain after Rahul Dravid, and not only that he was also assigned as the Test Captain.

Nobody believed, when Dhoni announced his retirement, It feels like the end of an era in the history of Indian cricket. No matter, players may come and go, but Mahi you'll always remain in our hearts and memories.
Source: Wikipedia
MS Dhoni & Sakshi Dhoni Marriage Date
MS Dhoni married Sakshi Dhoni on 4 July 2010 and after an India won it's 2nd the World Cup.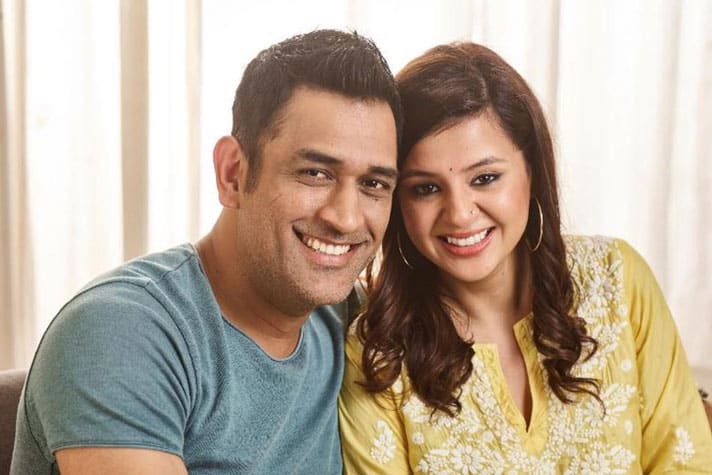 Top 5 MS Dhoni Images
1. 
2. 
3. 
4. 
5.