Well, it is not yet official, but if you see traffic jams and people in mass are going crazy in the streets of Washington DC in recent weeks, then it is probably because Caroline Wozniacki is roaming around the streets of DC with the Washington Redskins Ryan Kerrigan, who plays a linebacker in the team.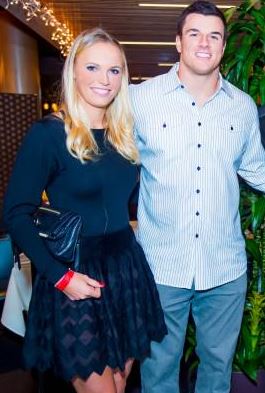 CNS Washington which is part of the leading media network in the USA, NBC has carried out a report recently that two of them are recently found with each other more often than not. They have been recently to gather in an auction, which was organized to benefit a local high school athletic department. The report from CNS Washington says that they posed for the pictures at that function and then spent the entire evening to gather "within arms length of one another"! Well, we leave the rest of it to your imaginations.
We still remember that Caroline was in relationship with the current World No.1 golfer Rory McIlroy a year or so back and they had a horrible break up just middle of this year. It is hard to live without romance for many humans, we know and Caroline is probably just showing that human nature which exists in all of us more or less. If this news is true, then it officially marks the moving on phase for Caroline Wozniacki for sure.
Although the official break up was announced between Wozniacky and McIlroy in May this year, but it took a very little time for the latter to come out of the shock as Rory won two majors in a row after that. First, it was the Open Championship and then it was the PGA Championships. That was not all Rory McIlroy was also instrumental in the recent win by the Team Europe in the Ryder Cup achieved in September.
Wozniacki too had tasted a little bit of a surprise after the break up as she reached the US Open final this year and also won Istanbul Cup in July earlier this year. Although the photographs shown in the media are not conclusive enough, but if they are, we wish Caroline Wozniacky a very special time ahead and also a far better 2015 in the WTA circuit.
Pictures Courtesy: CSNWashington.COM